Continuing with the sleeve-theme, this time I put together all kinds of pleated sleeves. They are beautiful, but unfortunately also high maintenance: every time you wash the garment, you'll need to press all the pleats again.
You might find my pleating-tutorial useful when drafting these. There's the half-scale sleeve pattern pdf you can download from the side-panel, although it was more useful for the previous batch of sleeves.
Sleeve with a central box-pleat
Starting with the most simple one of the group. There's just one box-pleat to be added in the middle of the sleeve. So draw a line where you want the pleat to be. Cut the sleeve in two pieces and add the pleat normally. You get the right shape if you fold the box-pleat before cutting the pattern. (=cut the pattern folded)
Vertically pleated sleeve
From the previous sleeve, it's easy to get to this one. It has the same central box-pleat, but inverted. And on both sides two knife-pleats looking towards the sides. You can add more pleats if you want.
Sleeve with tucks
This is actually very similar to the vertically pleated sleeve. If you add just a tiny amount of volume, you get tucks instead of pleats. You could do 8mm or 1cm, depending on how small tucks you want to sew. When folded in half, the final tucks would be 4mm or 5mm. Of course, to get a nice effect, you need many tucks.
Horizontally pleated sleeve
You probably haven't seen this version so often, but you can indeed pleat the sleeve also horizontally. These are knife-pleats going upwards. You could do them downwards, too.
Pleated butterfly sleeve
This must be my favorite among the pleated sleeves! It's kind of like the flared sleeve from last time, but with pleats.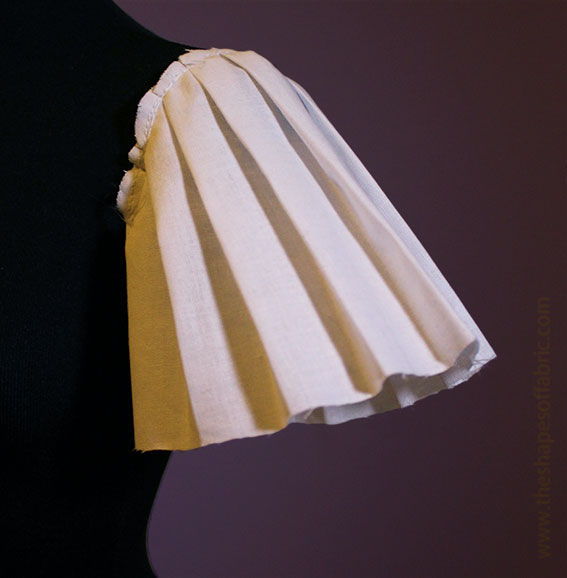 Sleeve with a faux cuff
Not exactly pleats, but the idea is the same. You add this fold at a preferred distance from the sleeve-hem to create an impression of a cuff. There's also a facing underneath, so you fold the last bit under. I added some extra space to the sides.
Just a tip for the sewing-phase: fold the "cuff" only after having sewed the seam.
Bamboo-sleeve
Of course I had to add this one to the list. First draw the bamboo-lines to your sleeve-pattern and then add volume to the folds as explained here.